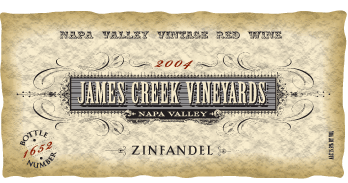 by Jacob
If I had to choose one wine to drink, I would probably choose a good Cabernet Sauvignon. It is a very versatile wine that goes well with red meat and with chocolate dessert. During our recent trip to wine country, Sarah and I made a special stop in Napa to buy some Cabernet (more reviews to follow).
Besides visiting some wineries, we stopped at the Wine Garage in Calistoga. The Wine Garage is an awesome wine store that gets wine from all over California and sells everything in the store for $25 or less a bottle. Here is their philosophy:
Our philosophy:
No wine over $25
Everything must taste great before it goes on the shelf
No wine snob attitudes
Impeccable and personal customer service
No wine questions go unanswered, or are deemed insignificant
Have fun…It's only fermented grape juice!
The 2005 James Creek Vineyards Napa Valley Cabernet was one of the wines we bought there. It is a wonderful example of the type of Cabernet produced in Napa Valley. Big and jammy, this wine has notes of chocolate and ripe red berries on the nose and a wonderful dark chocolate taste with a slight bit of oak. We drank it with dark chocolate and it was a prefect pairing. Our only regret on this bottle is that we didn't buy more than one! (Rating*****)